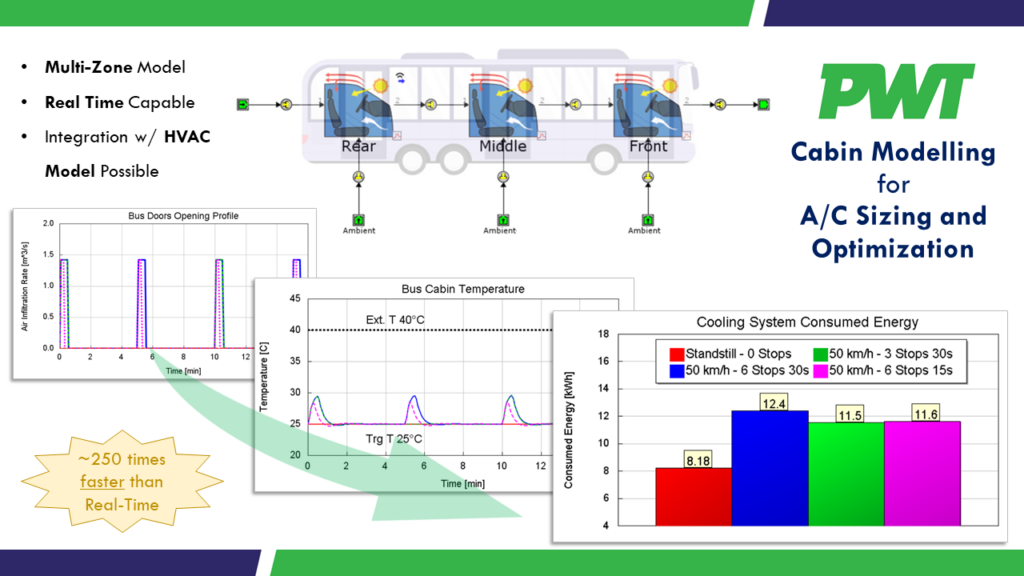 Cabin Simulation for Electric Buses
In Electric Vehicles, it is important to use onboard energy efficiently, for better range and performance. Cabin heating and cooling absorption thus plays an important role in energy management optimization. In this perspective, simulation is fundamental from the early stages in HVAC design and sizing.
PWT supports your cabin simulations with GT-SUITE, the industry standard in Multi-Physics Simulation.
In this demo study, 1D Simulation was used to evaluate cooling requirements for an electric urban bus, on a variety of mission profiles with different door opening frequencies and boundary conditions. The bus cabin was modelled with three macro-volumes and air flow through doors was calculated according to literature.
The required power was thus estimated in a fast and convenient way, much faster than Real Time and with the possibility of integrating the cabin model with additional physical vehicle sub-systems!
For more information, please contact us at info@pwt-eng.com