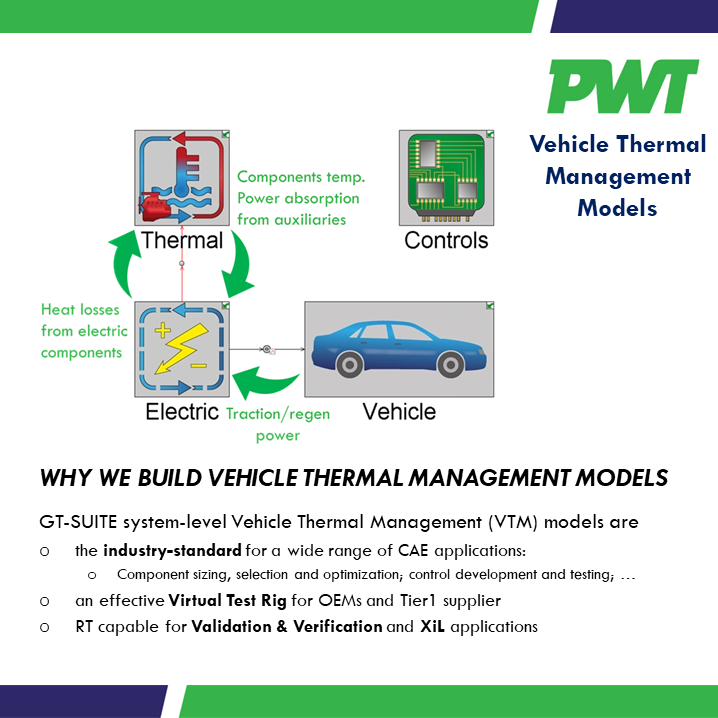 Vehicle Thermal Management Models
The development of vehicles and powertrains requires a significant effort for the optimization of the system as a whole. State-of-the-art vehicle performance can only be obtained when all the vehicle subsystems (powertrain, cooling circuit, refrigerant loop, to name a few) are harmonized with each other.
To support our automotive customers all over the V-cycle, in PWT we have been building multi-physics Vehicle Thermal Management (VTM) models for years. These comprehensive integrated models proved to be an efficient and powerful simulation tool to optimize the entire vehicle system in a virtual environment, at a fraction of time and cost of experimental tests.
VTM models can be effectively used for:
✔️ selection, sizing and optimization of vehicle components within the complete system (e.g., battery, pumps, heat exchangers)
✔️ vehicle performance evaluation (e.g., range and energy consumption, thermal operating limits)
✔️ development, validation and verification of vehicle controllers thanks to Model/Software/Hardware-in-the-Loop applications
A brief overview about the development of VTMs and their potential, is presented at this LINK.
If you need more information, contact us at info@pwt-eng.com.