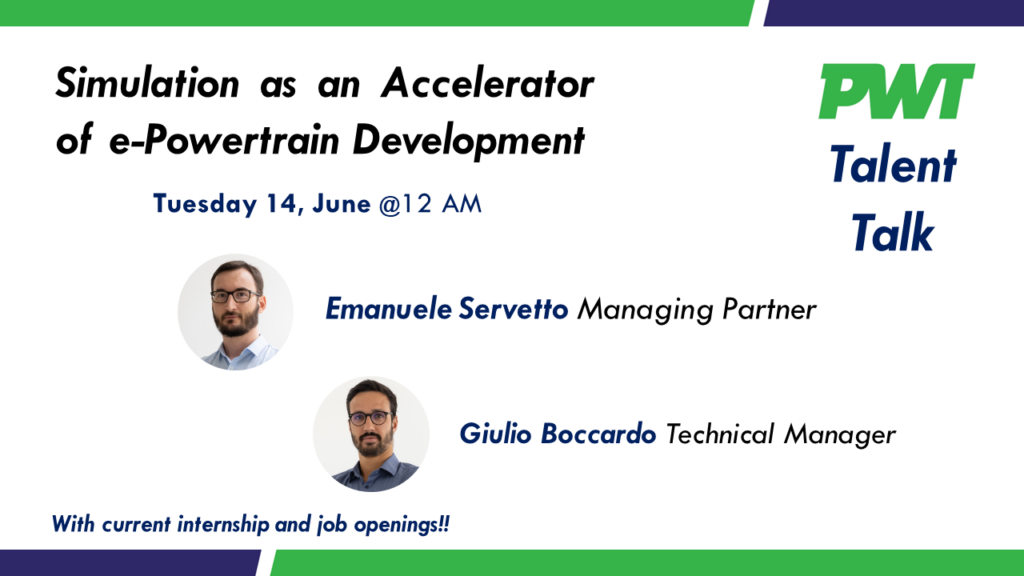 PWT Talent Talk
If you are a final-year student looking for an internship or a recently graduate engineer ready to start an exciting career in the automotive field, do not miss the #PWT 𝐓𝐚𝐥𝐞𝐧𝐭 𝐓𝐚𝐥𝐤 at the upcoming 𝐶𝑂₂ 𝑅𝑒𝑑𝑢𝑐𝑡𝑖𝑜𝑛 𝑓𝑜𝑟 𝑇𝑟𝑎𝑛𝑠𝑝𝑜𝑟𝑡𝑎𝑡𝑖𝑜𝑛 𝑆𝑦𝑠𝑡𝑒𝑚𝑠 𝐶𝑜𝑛𝑓𝑒𝑟𝑒𝑛𝑐𝑒!!
Emanuele Servetto and Giulio Boccardo will talk about 𝑆𝑖𝑚𝑢𝑙𝑎𝑡𝑖𝑜𝑛 𝑎𝑠 𝑎𝑛 𝐴𝑐𝑐𝑒𝑙𝑒𝑟𝑎𝑡𝑜𝑟 𝑜𝑓 𝑒-𝑃𝑜𝑤𝑒𝑟𝑡𝑟𝑎𝑖𝑛 𝐷𝑒𝑣𝑒𝑙𝑜𝑝𝑚𝑒𝑛𝑡.
The 𝐓𝐚𝐥𝐞𝐧𝐭 𝐓𝐚𝐥𝐤 session will be followed by a presentation of current internship and job openings at POWERTECH Engineering.
Save the date and register at the link below (or send an email to fsaeitaly.media@anfia.it)
📝 REGISTRATION –> LINK