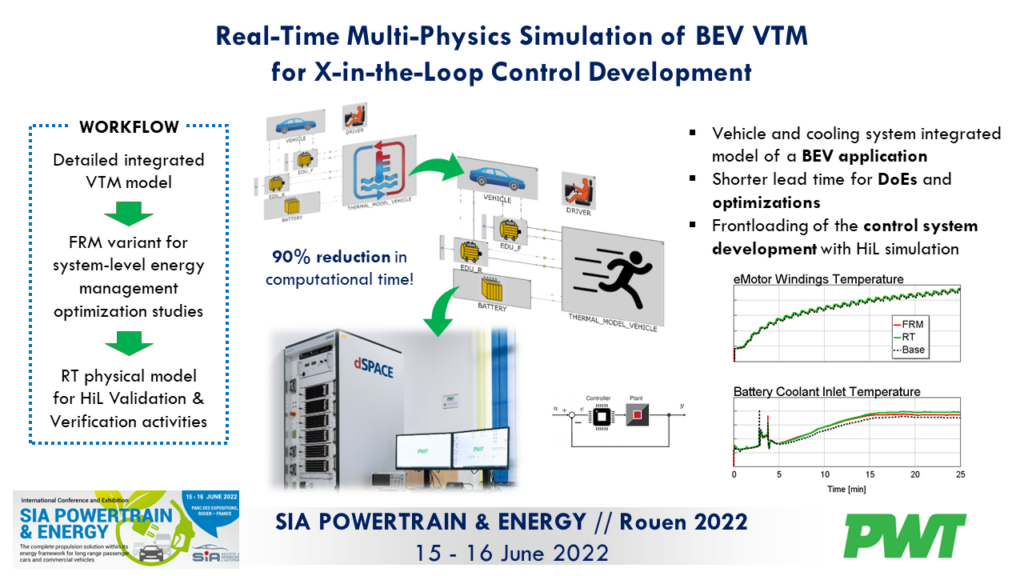 Real-Time Simulation of BEV VTM
Join PWT's Eduardo Graziano as he presents a jointly authored paper by Jaguar Land Rover's Ioannis Argyridis, Santhosh Jayaraju, Asveen Seebooa and our Giulio Boccardo and Luca Panizzolo about 𝑅𝑒𝑎𝑙-𝑇𝑖𝑚𝑒 𝑀𝑢𝑙𝑡𝑖-𝑃ℎ𝑦𝑠𝑖𝑐𝑠 𝑆𝑖𝑚𝑢𝑙𝑎𝑡𝑖𝑜𝑛 𝑜𝑓 𝐵𝐸𝑉 𝑉𝑇𝑀 𝑓𝑜𝑟 𝑋-𝑖𝑛-𝑡ℎ𝑒-𝐿𝑜𝑜𝑝 𝐶𝑜𝑛𝑡𝑟𝑜𝑙 𝐷𝑒𝑣𝑒𝑙𝑜𝑝𝑚𝑒𝑛𝑡.
The paper will be presented at 17:00 | June 15th | Electrified Propulsion Systems Tests And Simulations Session during the SIA Powertrain & Energy Conference in Rouen.
Save the date!
Conference Website: LINK